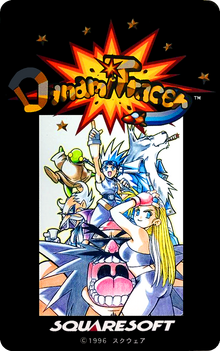 Dynami Tracer (「ダイナマイ・トレーサー」) is a Downloadable Game for the Satellaview that was released on January 27, 1996.
Gameplay
Dynami Tracer is a sci-fi dialogue-heavy adventure game about eight racers, and it has been described as a bizarre cross between Square's usual work and Sega's Toejam and Earl.[1][2]
According to the game's credits, Tetsuya Nomura provided its concept, and Nobuo Uematsu composed its music. 
The game has many levels, they include:[3]
Bone Skull
Twin Star
Music Factory
Adult Planet
Clockwork Star
Space Station (Game world name: Satella)
Monster Stomach
Sand Planet
Minimum Star (only accessible if Space Station/Satella completed.)
References