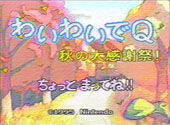 Satella-Q (「サテラQ」) is a series of quiz game events for the Satellaview, an add-on for the Super Famicom. The game features Kinopio (Toad in English translations) as the primary character, guiding players through the quizzes and minigames. The game was distributed as a Periodic Soundlink release.
During the Satellaview's early years, St.GIGA broadcasted quiz events called Waiwai de Q (「わいわいでQ」), which would phase into being called Satella-Q after the third event.[1] These aired in periodic intervals, unlike their traditional Soundlink broadcasts wherein the episodes were played week-by-week until the conclusion. In October 1995, Satella-Q would be merged with another earlier sound magazine called WaiWai Check (「わいわいチェック」) to again form WaiWai de Q.[2]
The game used the Satellaview's Soundlink technology to give the presentation of a quiz game show, with announcers presenting the questions for players to answer and music ranging from various sources ranging from classical to J-Pop to British Rock given use, sometimes playing key roles in the quizzes themselves.
Each episode was split into "rounds" that consisted of various types of quizzes, both in "multiple-choice" and "type-out the answer" forms, which ranged from Japanese cultural trivia to guessing the contents of obscured photo-realistic pictures.
Sometimes non-quiz mini-games would also be played, including one where players must move Toad through an area resembling a pool table, collecting the balls that the on-screen HUD requests. Another one features a game of cards that uses Poker cards with Yoshi on their backs.
Episode Listings
[
]
Satella-Q is the longest-running of all the Satellaview broadcasts and has the most episodes. The original "Waiwai de Q" was the third Soundlink broadcast St. GIGA aired, while the last "Satella-Q" event was the very last. This is a listing of each Satella-Q episode along with it's premiere broadcast date:[3]
| Date/Date Range | Japanese | Romaji | Translation |
| --- | --- | --- | --- |
| 1995/10/07 | わいわいでQ 第1回 | Waiwai de Q Dai-1-kai | The Crazy-Crazy Q Episode 1 |
| 1995/10/14 | わいわいでQ 第2回 | Waiwai de Q Dai-2-kai | The Crazy-Crazy Q Episode 2 |
| 1995/10/21 | わいわいでQ 第3回 | Waiwai de Q Dai-3-kai | The Crazy-Crazy Q Episode 3 |
| 1995/10/28 | わいわいでQ 第4回 | Waiwai de Q Dai-4-kai | The Crazy-Crazy Q, Episode 4 |
| 1995/11/01~1995/11/03 | わいわいでQ 秋の大感謝祭! 第1回 | Waiwai de Q Aki no Daikansha Matsuri! Dai-1-kai | The Crazy-Crazy Q Great Autumn Thanksgiving Episode 1 |
| 1995/11/08~1995/11/10 | わいわいでQ 秋の大感謝祭! 第2回 | Waiwai de Q Aki no Daikansha Matsuri! Dai-2-kai | The Crazy-Crazy Q Great Autumn Thanksgiving Episode 2 |
| 1995/11/15~1995/11/17 | わいわいでQ 秋の大感謝祭! 第3回 | Waiwai de Q Aki no Daikansha Matsuri! Dai-3-kai | The Crazy-Crazy Q Great Autumn Thanksgiving Episode 3 |
| 1995/11/22~1995/11/24 | わいわいでQ 秋の大感謝祭! 第4回 | Waiwai de Q Aki no Daikansha Matsuri! Dai-4-kai | The Crazy-Crazy Q Great Autumn Thanksgiving Episode 4 |
| 1995/11/29~1995/12/01 | わいわいでQ 秋の大感謝祭! 第5回 | Waiwai de Q Aki no Daikansha Matsuri! Dai-5-kai | The Crazy-Crazy Q Great Autumn Thanksgiving Episode 5 |
| 1996/03/07~1996/03/09 | わいわいでQ 春の採点スペシャル 第1回 | Waiwai de Q Haru no Saiten Special Dai-1-kai | The Crazy-Crazy Q Special Spring Grading Episode 1 |
| 1996/03/14~1996/03/16 | わいわいでQ 春の採点スペシャル 第2回 | Waiwai de Q Haru no Saiten Special Dai-2-kai | The Crazy-Crazy Q Special Spring Grading Episode 2 |
| 1996/03/21~1996/03/23 | わいわいでQ 春の採点スペシャル 第3回 | Waiwai de Q Haru no Saiten Special Dai-3-kai | The Crazy-Crazy Q Special Spring Grading Episode 3 |
| 1996/03/27~1996/03/30 | わいわいでQ 春の採点スペシャル 第4回 | Waiwai de Q Haru no Saiten Special Dai-4-kai[1] | The Crazy-Crazy Q Special Spring Grading Episode 4 |
| 1996/07/28~1996/08/02 | サテラQ 脳涼!夏祭り! | Satella-Q Nouryou! Natsumatsuri! | Satella-Q Brain Freeze! Summer Vacation! |
| 1996/12/01~1996/12/06 | サテラQ 年末ジャンボ宝クイズ 第1週 | Satella-Q Nenmatsu Jumbo Takara Quiz Dai-1-Shuu | Satella-Q Year-ending Jumbo Treasure Quiz Week 1 |
| 1996/12/08~1996/12/13 | サテラQ 年末ジャンボ宝クイズ 第2週 | Satella-Q Nenmatsu Jumbo Takara Quiz Dai-2-Shuu | Satella-Q Year-ending Jumbo Treasure Quiz Week 2 |
| 1996/12/15~1996/12/20 | サテラQ 年末ジャンボ宝クイズ 第3週 | Satella-Q Nenmatsu Jumbo Takara Quiz Dai-3-Shuu | Satella-Q Year-ending Jumbo Treasure Quiz Week 3 |
| 1996/12/22~1996/12/27 | サテラQ 年末ジャンボ宝クイズ 第4週 | Satella-Q Nenmatsu Jumbo Takara Quiz Dai-4-Shuu | Satella-Q Year-ending Jumbo Treasure Quiz Week 4 |
| 1997/05/04~1997/05/10 | サテラQ 国民のQ日 | Satella-Q Kokumin no Q-jitsu[4] | Satella-Q The People's Q-day(Holiday) |
| 1997/06/15~1997/06/21 | サテラQ 直Q!変化Q! | Satella-Q Choh-Q! Henka-Q! | Satella-Q The Straight Q(Pitch)! The Changing Q(Pitch)! |
| 1997/08/03~1997/08/09 | サテラQ Q児たちの甲子園 | Satella-Q Qko-tachi no Koushien | Satella-Q Q-kids' Baseball Stadium |
| 1997/10/26~1997/11/01     | サテラQ 日本シリーズQ回裏2アウト満塁!なぜかスクイズ! | Satella-Q Nihon Series Q-kaiura 2 Out Manrui! Naze ka Squeeze! | Satella-Q Japan Series, Bottom of the Qth(9th), Two Outs, Bases Loaded! Why? The Pressure! |
| 1997/12/21~1997/12/27 | サテラQ さよなら平成Q年 年末総決算! | Satella-Q Sayonara Heisei Q-nen Nenmatsu Soukessan! | Satella-Q Farewell Heisei Year Q(9), The End-Of-Year Closing of Accounts |
| 1998/02/01~1998/02/07 | サテラQ ミュージッQフェア | Satella-Q Music Q Fair | Satella-Q MusiQ(Music) Fair |
| 1998/03/15~1998/03/21 | サテラQ もうすぐ春ですね~ ちょっとサテQしませんか~? | Satella-Q Mou sugu Haru desu ne~ Chotto Sate-Q Shimasen ka~? | Satella-Q Almost Spring~ Want a little Sate-Q?~ |
| 1998/07/26~1998/08/01 | サテラQ Q-1グランプリ 真夏のリベンジ | Satella-Q Q-1 Grand Prix Manatsu no Revenge | Satella-Q Q-1 Grand Prix, Midsummer's Revenge |
| 1999/01/01~1999/01/09 | サテラQ 1QQQ Q年中はお世話になりました。今年もよろしクイズ! | Satella-Q  1QQQ Q-nenjuu wa o-Sewa ni Narimashita. Kotoshi mo YoroshiQuiz! | Satella-Q 1QQQ(1999) Thank you for your help Q(last) year. This year also has good quizzes! |
| 1999/03/28~1999/04/03     | サテラQ 進Qおめでとう ピカピカのQ年生! | Satella-Q Shin Q Omedetou Pikapika no Q-nensei! | Satella-Q Congratulations on Advance Q(Promotion), The Qth(9th)-year sparks! |
Cameos
[
]
Relevant Links
[
]
References
[
]