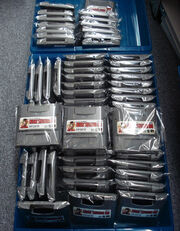 Slotted Cartridges are a form of Super Famicom cartridge with an opening at the top into which can be inserted additional hardware data. The benefit of the slot opening for slotted cartridges is that complex games can be released earlier than otherwise possible, and can be later expanded through the addition of later-released data. This allows game developers to more closely tailor games to the interests of the gamers, and additionally it allows for the sale of a greater number of units to collectors.
Slotted cartridges are most widely recognized in the form of the internationally released Super Game Boy line, a series of adapter cartridges that allowed players to play Game Boy games on the Super Famicom by inserting Game Boy games into the slot opening at the top of the Super Game Boy cartridge. This series of slotted cartridges was followed up by the Wide-Boy 64 slotted cartridge - a developer tool allowing Color Game Boy games to be played via Nintendo 64.
Contemporaneously with the development of the Super Game Boy in 1994, the decision was made that the Satellaview would also utilize slotted cartridges into which would be inserted memory packs containing additional data. The original slotted cartridge shipping with each Satellaview unit would be the Satellaview interface cartridge, BS-X: Sore wa Namae o Nusumareta Machi no Monogatari, and through this cartridge downloaded games and game data could be saved to rewritable 8M Memory Packs inserted into the top slot. Downloadable games could be played directly off the memory pack which utilized the Super Famicom's hardware, and game data would be saved to memory packs for use with different slotted cartridges.
Throughout the lifetime of the Satellaview, 8 different slotted cartridges were released (in addition to the BS-X interface cartridge) that provided gamers a basic game to which additional data could be added after its download via the Satellaview. These 8 games did not require a connection to the Satellaview for gameplay subsequent to the initial download of the data onto 8M Memory Packs via the BS-X cart. Furthermore, 3 different write-protected memory packs were released for sale that could interface with specific slotted cartridges to provide additional non-downloadable expansion data.
List of slotted cartridges for the Satellaview
Edit
Between 1995 and 2000, only 9 slotted cartridges were released for use with the Satellaview.
Name
Part No.
Release date
Retail price
Associated packs
Image
BS-X: Sore wa Namae o Nusumareta Machi no Monogatari
SHVC-028
SHVC-040
G728371
SHVC-ZBSJ-JPN
13 Feb. 1995
¥18,000
8M Memory Pack
Joushou Mahjong Tenpai
SHVC-ZTMJ-JPN
29 Sept. 1995
¥8,900
SD Gundam G-Next
SHVC-ZX3J-JPN
22 Dec. 1995
¥12,800
Unit & Map Collections
RPG Tsukūru 2
SHVC-ZR2J-JPN
31 Jan. 1996
¥12,800
SameGame
SHVC-ZS5J-JPN
1 Mar. 1996
¥8,980
Character Cassette;
Character Cassette: Tengai Makyo
Derby Stallion '96
SHVC-ZDBJ-JPN
15 Mar. 1996
¥12,800
Ongaku Tsukūru: Kanadeeru
SHVC-ZMCJ-JPN
12 Apr. 1996
¥7,800-¥9,980
Sound-Novel Tsukūru
SHVC-ZSNJ-JPN
31 May 1996
¥8,200
Shigesato Itoi's No. 1 Bass Fishing
SHVC-ZBPJ-JPN
21 Feb. 1997
¥6,800-¥7,800
Community content is available under
CC-BY-SA
unless otherwise noted.