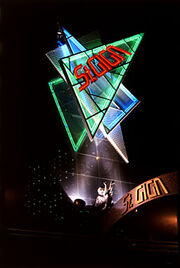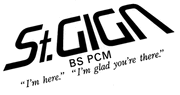 St.GIGA (セント・ギガ, Sento.GIGA) is the name of the now-defunct satellite radio company that was heavily involved in the Satellaview, an add-on for the Super Famicom.
Prior to their involvement with Nintendo, St.GIGA was known for its Satellite Radio station playing new-age and ambient music to a cult fanbase. In 1993, Nintendo bought some stock in their company.[1] In February 1995, Nintendo released the Satellaview, and St.GIGA dropped much of it's original content in order to maintain the service, providing downloads for users and more video game and pop-culture oriented audio broadcasts.
In 1998, Nintendo planned to abandon the Satellaview. St.GIGA, wanting to prolong the service further, kept it up for 2 more years. However, since they could no longer have new Nintendo content, it was not long before they were ran out of material and popularity. St.GIGA pulled the plug on the Satellaview on June 20, 2000. None of their work before or afterward was tied to video games.
St.GIGA eventually went out of business. Recent attempts to re-broadcast their old content have been revoked by the Japanese Minister of Internal Affairs.

Location
[
]
St.GIGA was located in Minato Ward, Tokyo Prefecture, Japan, one block from Takeshiba Station (竹芝訳) on the (Yurikamome Line) in the direction of Hinode Station (日の出訳). The building was erected in 1990 and still stands today as the Suzuebaydium (鈴江ベイディアム). It shares a block with the Seduce Beer Lounge (Seduce ビール ラウンジ) as its southerly neighbor. For travelers wishing to visit the site, the closest hotel is the Hamamatsuchō Chisan Hotel (チサンホテル浜松町).
References
[
]