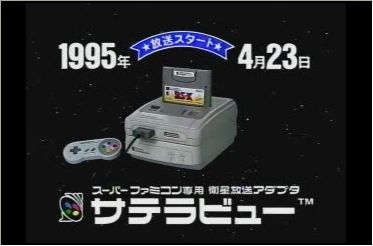 New pages
Welcome to the English Satellaview Wiki

[

]
Welcome to the English Satellaview Wiki. This Wiki's goal is to be the largest collaborative source for information on the obscure Super Famicom hardware add-on called the Satellaview.
Note that this site is not to be confused with "Satellaview Wiki", a Japanese site. That site can be found at this location.
This Wiki was created by the maintainer of Satellablog and thus these sites will freely share information; Satellablog can also be used for reference materials - particularly material from the video-, screenshot- and audio-data archives.
Currently the wiki is in its infancy and articles and article stubs are just starting to be set-up. We will gladly accept any contributions.
If you are just newly learning about the Satellaview, if you wish to edit the Wiki, or if you have any concerns with the content of this Wiki, please visit our Disclaimers section.
News
[
]
17 September 2009 - Just opened!
12 December 2010 - 100-article mark achieved!
16 December 2010 - The first sets of guidelines are drafted!
What is the Satellaview?
[
]
To summarize, the Satellaview was a hardware add-on for the Super Famicom, released in April of 1995. This add-on gave the Super Famicom the functionality to use a Satellite Modem to download software content as well as stream audio from Satellite radio. Nintendo made a venture with St.GIGA, a major Satellite Radio provider at the time, to release various kinds of content for people who used the add-on. From the Satellaview's release through June of 2000, games, magazines, books, and radio programming were distributed for an audience of Satellaview owners to enjoy.
More info on the subject can be found in the freely-editable Satellaview article which will be updated whenever new information becomes available.
Please help us to expand The English Satellaview Wiki by adding more information and starting articles on topics related to the Satellaview.
Thank you.